●Concept of bauhaus-imaginista.org
The online journal bauhaus-imaginista.org is home to details of the research processes and results of bauhaus imaginista. It reflects on issues before and after the events and exhibitions of bauhaus imaginista and deepens insights gained through a network of collaborators and international researchers. The online journal relates to the artists commissioned for and around the events and exhibitions, as well as publishing reports by local correspondents.
The platform bauhaus-imaginista.org is a continuously growing resource, a "work in progress", divided into four conceptual editions (Corresponding With, Learning From, Moving Away and Still Undead), which are filled with research texts and materials, videos, photos and artists' pages and documentation about exhibitions, workshops and symposia held in the cities of Rabat, Hangzhou, New York, Kyoto and Tokyo, Moscow, São Paulo, Lagos, New Delhi and Gandhinagar in 2018, Berlin, Berne and Nottingham in 2019, and Istanbul in 2020. → more
bauhaus-imaginista.org ist das Online-Journal des Projekts bauhaus imaginista, seines Forschungsprozesses und seiner Ergebnisse. Es spiegelt Fragen und Aspekte, die in den Veranstaltungen und Ausstellungen aufgeworfen werden, und vertieft neue Erkenntnisse, gewonnen durch ein Netzwerk von Wissenschaftler*innen und Kooperationspartner*innen. Das Online-Journal berichtet darüber hinaus über die Arbeiten, die von den für bauhaus imaginista beauftragten Künstler*innen während der Veranstaltungen und für die Ausstellungen entwickelt wurden, und veröffentlicht Reportagen der Korrespondent*innen vor Ort.
bauhaus-imaginista.org ist eine kontinuierlich wachsende Website, ein "work in progress". Vier Editionen (Corresponding With, Learning From, Moving Away, Still Undead) sind mit aktuellen wissenschaftlichen Beiträgen, Videos, Fotos und Künstlerseiten sowie Dokumentationen der Ausstellungen, Workshops und Symposien in Rabat, Hangzhou, New York City, Kyoto und Tokio, Moskau, São Paulo, Lagos, Neu-Delhi und Gandhinagar im Jahr 2018 und in Berlin, Bern und Nottingham 2019 sowie in Istanbul 2020 bestückt. Im Verlauf dieses Prozesses ist die Website zum Materialfundus und Wissenspool des Projektes herangewachsen. → more
●In memory of Marion von Osten (1963–2020)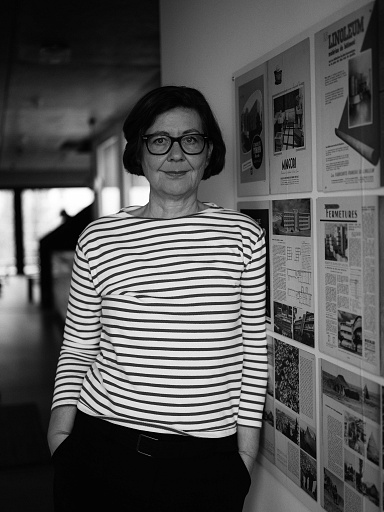 When Marion von Osten invited more than fifty people from Brazil, Canada, China, Chile, Great Britain, Nigeria, India, Israel, and the United States—a transnational group of artists, curators, architects, historians, activists, authors, editors, project managers, translators, members of the Goethe-Institut and Bauhaus researchers—to stand with her and co-curator Grant Watson onstage at the opening ceremony of the exhibition bauhaus imaginista at Haus der Kulturen der Welt in March 2019, it was a scene that symbolized the way she worked and the kind of person she was. → more
Es sind mehr als fünfzig Personen, die Marion von Osten im März 2019 zur Eröffnung der Ausstellung bauhaus imaginista zu ihr und Co-Kurator Grant Watson auf die große Bühne des HKW Berlin bittet: aus Brasilien, China, Chile, Kanada, Nigeria, Großbritannien, Indien, Israel und den USA – eine transnationale Gemeinschaft von Künstler*innen, Kurator*innen, Architekt*innen, von Historiker*innen, von Aktivist*innen, Autor*innen, von Projektmanager*innen, Übersetzer*innen, Goethe-Institutsangehörigen und Bauhausforscher*innen. Es ist eine Szene, die so sehr für die Arbeitsweise und den Mensch Marion von Osten steht. → more
The film collected recordings presents an overview of the exhibition and event project bauhaus imaginista. It includes footage from Rabat, Hangzhou, New York, Kyoto, Moscow, Sao Paulo, Lagos, New Delhi and Berlin in 2018 and 2019.