Locations
Locations of the Exhibition and Symposium in Hangzhou, China
China Design Museum at CAA, Hangzhou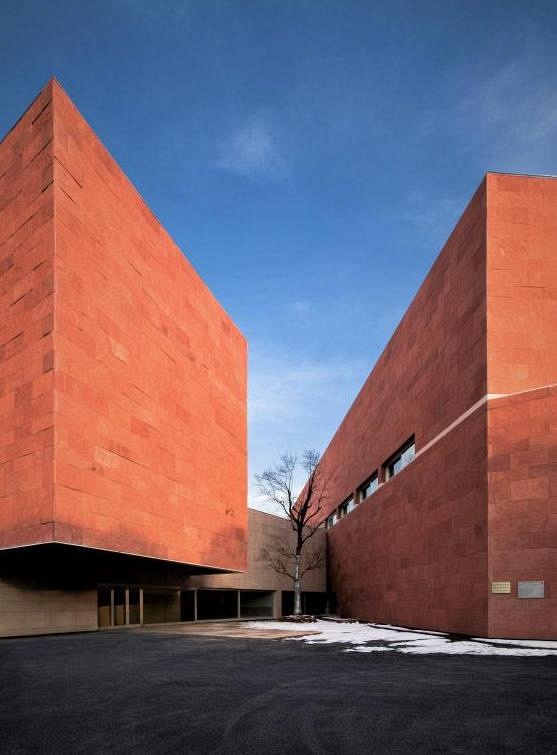 © China Design Museum, photographer Qian Yunfeng.
Proposed by CAA, CDM was founded in 2011, approved and financed by People's Government of Zhejiang Province. The No.110 Document by Zhejiang Development and Reform Commission announced its approval of China Design Museum project, and to support CAA to become a first-class design university as well as to promote cultural and educational development in the province.

China Design Museum, a modern museum with Bauhaus Institute as its foundation, covers an area of 16,800 sq meters at Xiangshan campus. It was designed by the famous architect Alvaro Siza, the Pritzker Prize winner (1992). It opened in April 2018. China Design Museum serves both as a heritage of design and as a place for contemporary design collections. Painted in red and white, the building is designed in a simple way with a strong sense of sculpture. The interior of the museum, mostly painted in white, features a clear structure with simple lines. Each section is well situated in the place where it belongs and forms a perfect exhibiting system. It is also equipped with constant-temperature and constant-humidity devices as well as special lightings to meet the demands of all exhibits. Apart from the series "Western Bauhaus Design Collection in Modern Times", this museum also houses over 30,000 pieces of Italian menswear and more than 700 film posters. In the future, more items are going to be collected to form a systematic collection for modern designs. All these efforts mentioned above are parts of CAA's academic strategy which "combines localization with globalization".
Goethe-Institut Beijing, China
© Goethe-Institut 2018.
+ Add this text to your collection!