Edition 1
Corresponding With
Lyonel Feininger, Kathedrale [Cathedral], 1919, Cover and one page of the manifesto
and programme of the Bauhaus, April 1919, 32.1 x 19.4 cm, Woodblock print
Bauhaus-Archiv Berlin, Photo: Atelier Schneider, © VG Bild-Kunst, Bonn 2019.
Nandalal Bose, Instructions for Mural painting, early 1930s
Mural, Kala Bhavana, Santiniketan, India, © Kala Bhavan, Visva Bharati, Santiniketan.
Weaving workshop at Bauhaus Dessau, ca. 1927, photo: Erich Consemüller/architect: Walter Gropius
Bauhaus-Archiv Berlin, © VG Bild-Kunst, Bonn 2019.
Lena Bergner, Two studies from the Paul Klee course at the Bauhaus, 1927–28
Litho print, Zentrum Paul Klee, Bern, © Heirs to Lena Bergner.
Kala Bavhan campus, Santiniketan, West Bengal, 2017, photo: Grant Watson.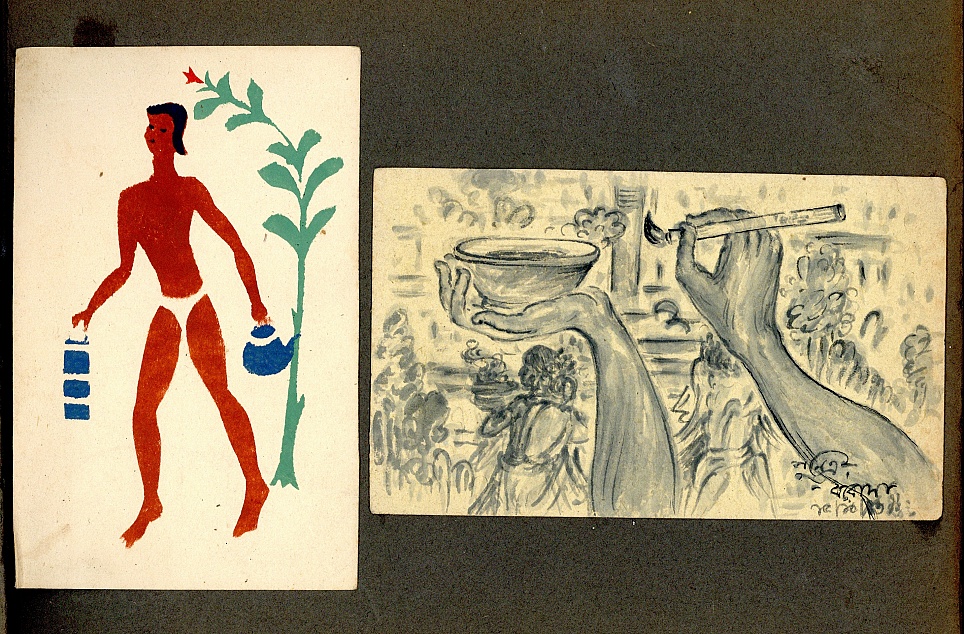 Krishna Reddy, Postcard and drawing, year unknown
Photo: Grant Watson, © Judith Reddy, New York.
Renshichirō Kawakita & Katsuo Takei, Kōsei Kyōiku Taikei, (Handbook for Teaching Design), 1934
Private Collection of Prof. Hiromitsu Umemiya.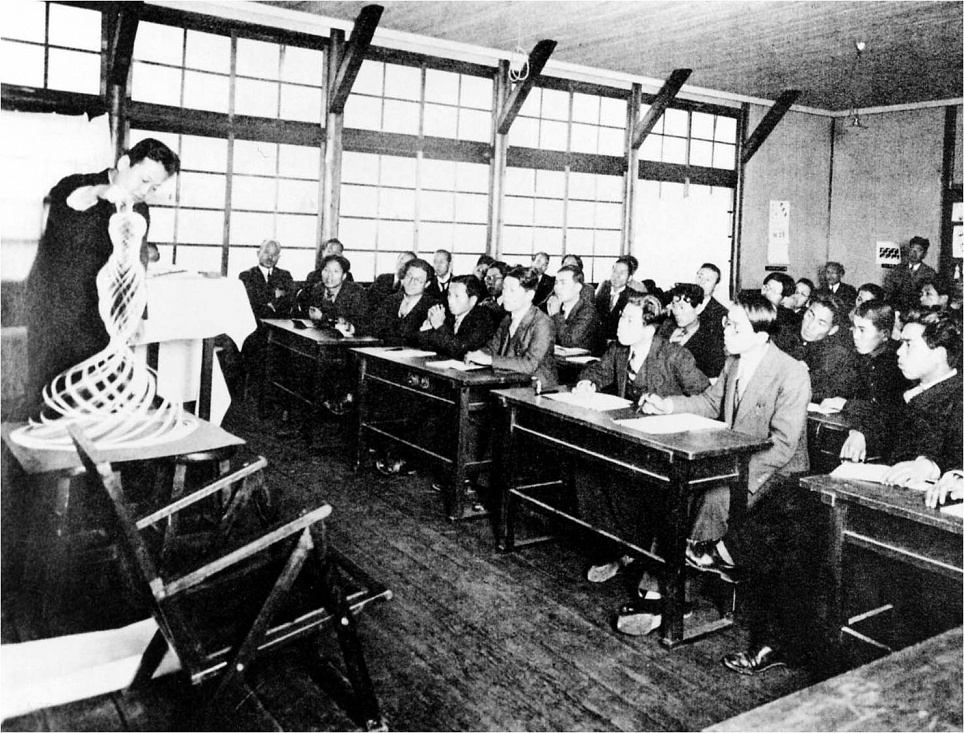 Renshichirō Kawakita at the workshop of Kōsei Kyouiku for art teachers held in
Wakayama Prefecture, December 1933, from: Kenchiku Kōgei. I See All, Vol. 3, No. 3, Mar. 1933.
Hin Bredendieck (middle) from Josef Albers's preliminary course 1928, ca. 1928 (photo) / 2015
Fine Art Print, Stiftung Bauhaus Dessau.
Seikatsu kōsei (Life Construction) exhibition at Bunka Gakuin
in June 1931. Published in: Kenchiku Gaho, Vol. 22, No. 10.
Luca Frei, Design for pillows, 2017
Gouache, pencil and collage on foam core, 70 x 100 x 3 cm, photo: Karl Isakson.
Corresponding With begins with the 1919 Bauhaus Manifesto published by Walter Gropius, who argued that in the future there should be "no essential difference between the artist and the craftsman." The manifesto was a product of its time, drawing on the radical cultural movement that had arisen in the wake of the First World War and which aspired to overcome the existing conventions of an academicized European art education, understanding the social and material value of craft as a means of redressing the destructive forces of 19th century industrial capitalism. From its inception the Bauhaus school was at the confluence of international ideas on modernism and radical educational reforms. Rethinking the relationship between the applied and non-applied arts, and manual and cognitive knowledge was central to this larger process of reform and innovation. As a pedagogical experiment, the school was exceptional for putting various ideas and practices in action within its curricula—an effort to reconceptualize the arts as a central part of creating a new socialist and democratic society.
The Bauhaus opened in April 1919 in the same year the Indian poet Rabindranath Tagore opened the art school Kala Bhavan, the fine arts faculty of Visva Bharati University at Santiniketan, an already existing utopian community on a piece of land hundred miles north of Calcutta (known today as Kolkata). Like the early Bauhaus, Kala Bhavan developed a modernist language that also referred to Indian craft and fine art traditions, as well as other sources, such as the British Arts and Crafts movement. In 1922, the Austrian art historian Stella Kramrisch, who taught at Kala Bhavan, began corresponding with Johannes Itten, broaching the possibility of a Bauhaus exhibition in India. This exchange resulted in the first international Bauhaus show, which took place in December of that year at the Indian Society of Oriental Art in Kolkata.
Another Bauhaus-related educational experiment—Seikatsu Kōsei Kenkyusho (Research Institute for Life Design)—was founded by Renshichirō Kawakita in Tokyo in 1931 and later renamed Shin Kenchiku Kōgei Gakuin (School of New Architecture and Design). Like the Bauhaus in Weimar, the Tokyo school combined a modernist approach to handicrafts with industrial forms of production, inflected by specifically Japanese aesthetic ideas. In 1934 Kawakita published a book on Kōsei (design) education co-written with the teacher Katsu Takei, Kōsei Kyōiku Taikei (Handbook for Design Education), which in tandem with Kawakita's school worked to translate specific Bauhaus principles into a modernist Japanese theory of art education.
Instead of considering these three schools from within the chronology of Bauhaus influence, the section Corresponding With compares their practice and philosophy, linked by letters, concepts, and the movement of individuals and works of art, architecture and design. It includes rarely seen documents on teaching methods and workshop environments, aesthetic vocabularies and material cultures, course syllabi, the results of workshops focused on reimagining everyday objects (crafted in accordance with the schools' guiding principles) and pedagogical writings. The three schools—considered in relation to one another and rethought as part of a network of transnational and transcultural exchange that profoundly affected early 20th century art education—were linked by a shared critique of European academic art education, a desire to reshape society through radical pedagogy and the effort to distance themselves from the rising nationalisms of the 1920s and 1930s.
Corresponding With was realized in 2018 together with he National Museum of Modern Art (Kyoto) and the Haus der Kulturen der Welt (Berlin), in cooperation with Helena Čapková (Tokio/Prag), Anshuman Dasgupta (Santiniketan), Fabienne Eggelhöfer (Bern), Luca Frei (Malmö), Anja Guttenberg (Berlin), Yuko Ikeda (Tokio), Partha Mitter (Oxford), Jin Motohashi (Kyoto), The Otolith Group (London) and Hiromitsu Umemiya (Kobe). The artist Luca Frei also developed a new sculptural work for this chapter and designed the overall space.