Kurt Schwerdtfeger, Reflektorische Farblichtspiele (Reflecting color-light plays, 1922
light performance, apparatus reconstructed 2016
Courtesy of Microscope Gallery and Kurt Schwerdtfeger Estate © 2016.
László Moholy-Nagy, The mechanics of the light prop, 1930
Watercolour, ink and pencil on circular paper, mounted on round hardboard, diameter: 52 cm
Bauhaus-Archiv Berlin, photo: Hermann Kiessling.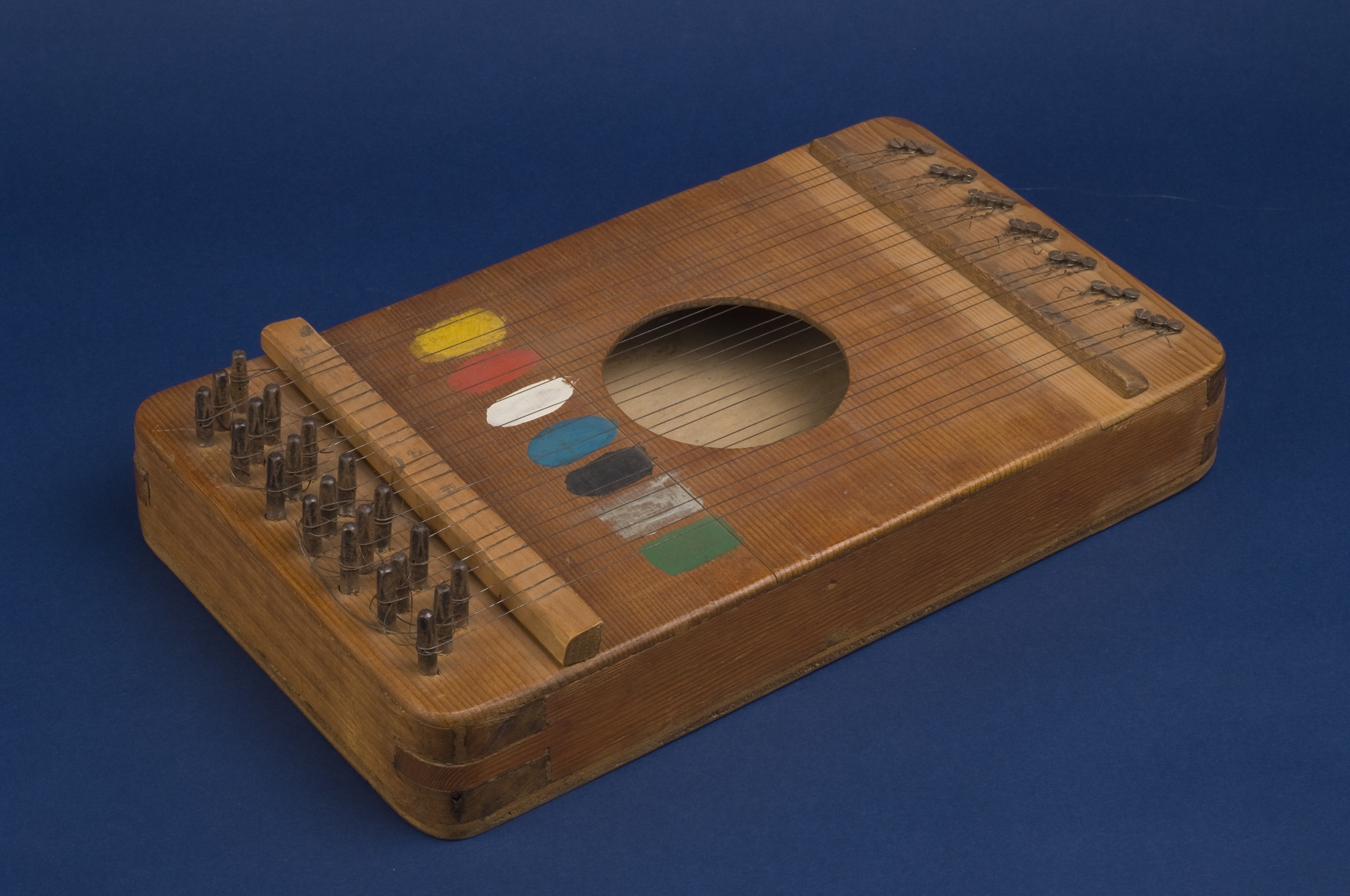 Ludwig Hirschfeld Mack, Colour Chord 21-stringed flat sound box, no date (c. mid-20th century)
Grainger Museum Collection, University of Melbourne.
Gift of Olive Hirschfeld, 1980. 01.0017.
György Kepes, Simulated effects of a proposed mile-long
programmed luminous wall, suggested for the Boston Harbor
Bicentennial, 1964–65, photo: Nishan Bichajian
Massachusetts Institute of Technology Program in
Art, Culture and Technology, © Juliet Stone.
Muriel Cooper, 1969, Promotional Poster for Bauhaus:
Weimar, Dessau, Berlin, Chicago, Image courtesy
Muriel R. Cooper Collection, Morton R. Godine Library, Archive
Massachusetts College of Art and Design, reprinted by
permission of the MIT Press.
Stan VanDerBeek, Movie-Drome, ca. 1963
Courtesy: Estate of Stan VanDerBeek, photo: Bob Hanson.
Richard Hamilton, Diab DS-101 Computer, 1985–89
Tate-Modern, © R. Hamilton. All Rights Reserved / VG Bild-Kunst, Bonn 2019,
photo: © Tate, London 2019.
Article on the Bauhaus punk band,
in: New Styles New Sounds, from October 1981, p. 29
© Kasper de Graaf (Editor) and Malcolm Garrett (Art Director).
Ausgangspunkt für das Ausstellungskapitel Still Undead sind Kurt Schwerdtfegers Reflektorische Farblichtspiele aus dem Jahr 1922. Die Farblichtspiele wurden auf einem Bauhausfest in Kandinskys Wohnung uraufgeführt. Mit einer Kombination von bewegten abstrakten Schattenfiguren, Lichtformen und Sounds entstanden sie außerhalb des Bauhauslehrplans. Die Farblichtspiele erschließen mehrere Aspekte, darunter die Experimente auf dem Gebiet der Gestaltung mit Licht, der Klangkunst, der Performance und der Feste am Bauhaus.
Still Undead verfolgt die Spuren künstlerischer Experimente mit Licht, Sound und neuen Technologien an Kunstschulen und Universitäten wie dem New Bauhaus in Chicago, dem Centre for Advanced Visual Studies (CVAS) und dem Media Lab am Massachusetts Institute of Technology (MIT) in Cambridge. Experimente mit neuen Medien und Technologien entstanden im Spannungsfeld einer Institutionalisierung und Verwissenschaftlichung von künstlerischen und populären Gegenkulturen in Westeuropa und den USA. Schwerdtfegers Reflektorische Farblichtspiele gelten heute als wichtige Referenz für das Expanded Cinema; sie weisen in eine Zukunft, in der Sound, experimenteller Film und Digitalkultur zum zentralen Bestandteil der Gegenwartskunst werden. Stan VanDerBeeks filmische Arbeiten, die Performances von Velvet Underground mit ihren Stroboskop-Lichtshows finden in den 1960er-Jahren ihren Gegenpart in der Konsumkultur und der Entwicklung von Informationstechnologien. Still Undead diskutiert, wie eine gegenkulturelle Produktion institutionelle Strukturen einerseits überschreitet, um andererseits in sie integriert zu werden. Die bereits für das Bauhaus charakteristische Verwischung der Grenzen zwischen Experiment, Institutionalisierung und Kommerzialisierung ist heute zur Norm geworden. Diese allgemeine Tendenz – die Verschmelzung von widerständigen und experimentellen Praktiken mit dem Common Sense – unterstreicht die heute notwendige Repolitisierung von Kunst, Technologie und Populärkultur.
Das Ausstellungskapitel Still Undead wurde 2019 mit dem Haus der Kulturen der Welt (Berlin) realisiert, in Zusammenarbeit mit Christian Hiller (Berlin), Gavin Butt (London) und Mariana Meneses Romero (London). Parallel zur Ausstellung am Zentrum Paul Klee wird vom 20.09.2019 bis 05.01.2020 in der Kunsthalle Nottingham Contemporary eine weitere Version von Still Undead mit einem Fokus auf die Rezeption in Großbritannien gezeigt.