Artnet
MAJOR BAUHAUS EXHIBITION WILL CIRCLE THE GLOBE IN 2018 TO FETE THE MOVEMENT'S CENTENARY
Naomi Rea
Next year, a major series of shows titled "Bauhaus Imaginista" will explore the interaction between the Bauhaus and non-European Modernist movements in celebration of the hundredth anniversary of the establishment of the German art school.
A series of exhibitions will be staged at different art and design museums and institutions in Japan, China, Russia, and Brazil from March 2018, leading up to a landmark exhibition in Berlin's Haus der Kulturen der Welt in 2019, the Bauhaus's centenary year.
Curated and art directed by Marion von Osten and Grant Watson, the individual chapters of the exhibition series will be complemented by a program of satellite events, workshops and panels with cultural professionals in the US, India, Morocco, and Nigeria.
Deutschlandfunk
"DAS BAUHAUS WAR EINE ÄSTHETISCHE REVOLUTION"
Die Geschichte des Bauhauses hat vor 99 Jahren in Weimar begonnen. Weltweit wirken die Ideen von Walter Gropius und seinen Mitstreitern bis heute nach. "Das Bauhaus war kein originäres, beziehungsloses Projekt", erklärt "Bauhaus Imaginista"-Kuratorin Marion von Osten im Dlf. Marion von Osten im Gespräch mit Anja Reinhardt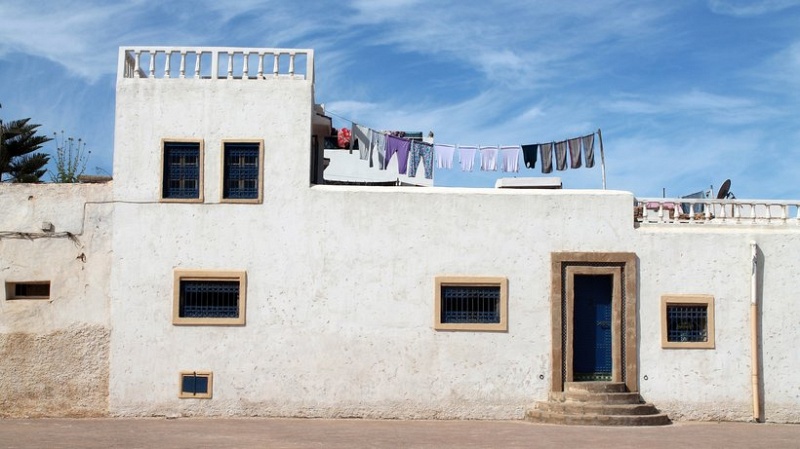 Zeit online
ZWEI GROSSMÜTTER
Elisabeth Wellershaus
Das einst revolutionäre Bauhaus inspirierte auch die Gesellschaft im Maghreb. Wie bewegen sich junge Künstlerinnen und Künstler heute durch die verschiedenen Kulturen? Von Elisabeth Wellershau
Das Goethe-Institut hat mich nach Rabat eingeladen. Eigentlich kein schlechter Start in den Frühling. Zumal die Veranstaltungsreihe, die ich mir ansehen soll, ein vorverlegter Geburtstag ist. Theoretisch feiert das Bauhaus zwar erst im kommenden Jahr den Hundertsten. Aber die Zeit lässt sich natürlich bestens mit Kulturprojekten überbrücken. Ich fahre also durch die marokkanische Hauptstadt und frage mich, wie eine Kunstbewegung aus Weimar es bis hierher geschafft hat. Denn genau das wollen die Kuratoren Marion von Osten und Grant Watson in den nächsten Monaten bei Veranstaltungen zwischen Marokko und China klären.
DW
2019 wird das Bauhaus 100! Der weltweite Jubiläumsreigen beginnt schon jetzt - mit dem internationalen Ausstellungsprojekt Bauhaus Imaginista. Wie groß war der Bauhaus-Einfluss auf andere Länder? Auftakt im chinesischen Hangzhou.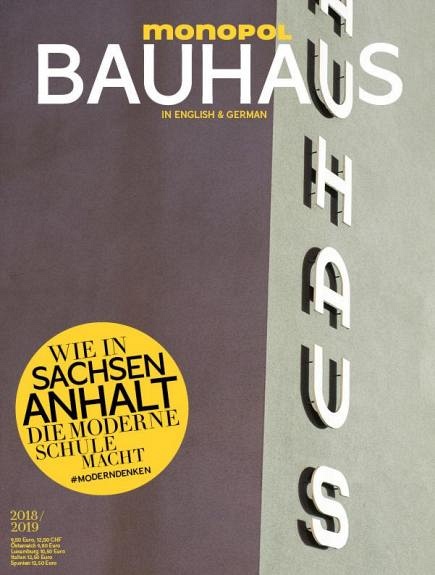 Monopol
REPORT.BAUHAUS IMAGINISTA
Bauhaus auf Weltreise / The Bauhaus tours the World
Interview Saskia Trebing
Von Anfang an war die Kunstschule ein Sammelbecken für Kreative mit Migrationshintergrund. Lehrer und Schüler ließen sich von Handwerkstechniken aus aller Welt inspirieren und standen mit einer internationalen Avantgarde in Kontakt.
Das Ausstellungs- und Forschungs-Projekt "BAUHAUS IMAGINISTA" begibt sich in Zusammenarbeit mit dem Goethe-Institut auf die Spuren einer globalisierten Moderne. Für die Direktorin der Stiftung Bauhaus Dessau, Claudia PERREN, liegt es nahe, dass die Einflüsse auch wchselseitig waren. The Bauhaus tours the world.
ARTFORUM
THE OTOLITH GROUP
The Otolith Group talks about O Horizon, 2018
The Otolith Group's latest film, O Horizon, 2018, comes out of a long-standing research interest in Rabindranath Tagore and his founding of Visva-Bharati, a school in Santiniketan, West Bengal, India, which was meant to be a living laboratory and an experiment in art, life, and craft. Here, the founders of the group, Kodwo Eshun and Anjalika Sagar, discuss their motivations for shooting on location and the Tagorean ethics that animate the work. O Horizon made its debut at the Rubin Museum of Art in New York, where it is currently on view through September 17, 2018. The work will travel to the National Museum of Modern Art in Kyoto as part of "bauhaus imaginista: Corresponding With" from August 4 to October 8, 2018.
TAZ
LERNEN FÜR DIE NEUE GESELLSCHAFT
Beate Scheder

Wie das Bauhaus in Japan und Indien wirkte: Im Rahmen des Großprojekts bauhaus imaginista vergleicht eine Ausstellung in Kyoto pädagogische Konzepte dreier Kunstschulen.
Goethe-Institut
THE BAUHAUS AT THE END OF THE WORLD
Vladimir Balzer
It's the furthest lap of the journey so far that the team of bauhaus imaginista has undertaken. Nine thousand kilometres to Kyoto, seven hours time difference. And yet traces of the Bauhaus, the largest German cultural export of the last century, can still be found here. Together with the Bauhaus-Kooperation, the Goethe-Institut, Haus der Kulturen der Welt and other local partners, an exhibition has been produced at the National Museum of Modern Art in Kyoto showing how the Bauhaus had an impact on Asia, not just Japan but also India.
Goethe-Institut
EIN MOSAIK AUS BRUCHSTÜCKEN
Alexander Stumm

Im Moskauer Garage Museum of Contemporary Art eröffnet die nächste "bauhaus imaginista"-Ausstellung "Moving Away – The Internationalist Architect". Das Kuratoren-Team beleuchtet das in Vergessenheit geratene Werk des ehemaligen Bauhaus-Direktors Hannes Meyer.
TAZ
DEN ARCHIVEN ENTRISSEN
Bernhard Schulz

Warmlaufen fürs Bauhaus-Jubiläum: Eine Moskauer Ausstellung verknüpft die Geschichte der Lehrstätte mit der Gegenwart.
Baunetz
BAUHAUS IN MOSKAU. AUSSTELLUNG ZU HANNES MEYER, PHILIPP TOLZINER UND KONRAD PÜSCHEL
Sophie Jung
In Moskau eröffnete im Garage-Museum letzte Woche eine Ausstellung, die sich den Sub-Erzählungen des Bauhaus widmet. Bauhaus Imaginista – The Internationalist Architect berichtet nicht von einem Walther Gropiusoder einem Mies van der Rohe, sondern von den kleinen Verästelungen dieser Schule weltweit, von Biografien, die bis heute multiple Geschichten des Bauhaus' fortschreiben. Drei Personen stellt die Ausstellung vor: die Architekten Hannes Meyer und Bauhaus-Studenten Konrad Püschel und Philip Tolziner.
SLANTED
bauhaus imaginista – MOVING AWAY. THE INTERNATIONALIST ARCHITECT / MOSKAU
Julia Kahl
Das Bauhaus (1919–33) war in seinem 14-jährigen Bestehen aktiver Bestandteil der internationalen Bewegung der Moderne. Der erste Direktor der Schule, Walter Gropius, einer der Mitglieder der Internationalen Kongresse für Moderne Architektur (CIAM), half dabei, ein Netz von modernistischen Architekten in ganz Europa und den Vereinigten Staaten zu schaffen – wie sein dritter und letzter Direktor, Mies van der Rohe. Hannes Meyer, der zweite Direktor der Schule, stand im Dialog mit der Avantgarde der Sowjetunion und Lateinamerikas. Der weltweite Ruf der Schule war Basis für die Schaffung von modernistischen Konzeptionen in Form, Methode und Ethos in Architektur und Design.
Bauhaus Imaginista / Kyoto
2019 wird das Bauhaus 100 Jahre alt. Das Projekt Bauhaus Imaginista von Goethe-Institut, Bauhaus Kooperation Berlin und dem Haus der Kulturen der Welt folgt den Spuren des Bauhaus um die Welt.
Moving Away – The Internationalist Architect in Moskau
BAUHAUS ALS NETZWERK
Alexander Stumm
bauhaus imaginista nimmt die vielfältigen, aber bisher wenig beachteten Verbindungslinien zu modernen Architekturströmungen und Bewegungen in Asien, Afrika, Nord- und Südamerika in den Blick. Ziel des Projekts ist, die eurozentrische Erzählperspektive zu verlassen und damit neue Narrative sichtbar zu machen. Das Bauhaus stellt sich so vielmehr als ein internationales Netzwerk dar, in dem die Ideen von unterschiedlichen Akteur*innen in den jeweiligen gesellschaftlichen und kulturellen Kontexten verhandelt und übersetzt – aufgegriffen, adaptiert und weiterentwickelt – wurden. Damit leistet es einen entscheidenden Grundlagenbeitrag für die postkolonialistische Erforschung des Phänomens.
Deutschlandfunk Kultur
bauhaus imaginista in São Paulo
ZURÜCK ZU DEN WURZELN
Susanne Burkhardt im Gespräch mit Sigrid Brinkmann
Nach Marokko, China und Japan macht das Bauhaus-Imaginista-Projekt jetzt in Sao Paulo Halt. Die dortige Ausstellung trägt den Titel "Learning From". Unsere Kulturredakteurin Susanne Burkhardt ist auf Einladung der Ausstellungsmacher vor Ort. Sie erklärt im Deutschlandfunk Kultur, dass in Sao Paulo gezeigt werde, wie sehr sich das für Modernität stehende Bauhaus damals für prämoderne Techniken und sogenannte "primitive Kulturen" interessiert habe und wie daraus wichtige Impulse in die eigene Arbeit eingeflossen seien.
3Sat Kulturzeit
BAUHAUS IMAGINISTA: SÃO PAULO
100 Jahre Bauhaus: Die Ausstellung im SESC Pompéia zeigt das Interesse des Bauhauses an handwerklichen Produktionsweisen.
OMENKA
DECOLONIZING THE CAMPUS, ACCORDING TO HANNAH LE ROUX
Christina Ifubaraboye
Hannah le Roux is an architect, curator and professor at the University of the Witwatersrand, Johannesburg. Her work revisits the modernist project in architecture in Africa, and considers how its transformation presents a conceptual model for contemporary design in Africa.
In the recent bauhaus imaginista symposium, Decolonizing the Campus at the University of Lagos, le Roux focused on tropical architecture and building skin. Here, in this interview she gives an overview and talks about Africa as a catalyst and conceptual model for contemporary design.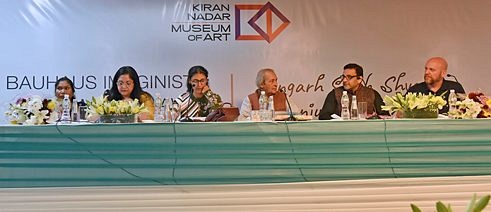 GOETHE-INSTITUT
ALLES ZUGLEICH BEDARF DER GRÜNDLICHEN BILDUNG
Pablo Larios
Auf dem Symposium "Moving Away – Bauhaus-Pädagogik" in New Delhi stand die Bauhaus-Pädagogik und deren Verbindung zu anderen bedeutenden Bildungskonzepten des 20. Jahrhunderts im Zentrum der Diskussion. Unter Einbeziehung lokaler Forschung befassten sich Expertinnen und Experten mit der Kunst-, Gestaltungs- und Architekturlehre auf dem indischen Subkontinent.
OMENKA
THE IMPACT OF COLONIAL ARCHITECTURE BY CORDELIA O. OSASONA
Christina Ifubaraboye
Cordelia O. Osasona is a professor of history of architecture at Obafemi Awolowo University, Ile-Ife and pioneer Head of Architecture at the University of Ibadan, Ibadan. In the recent bauhaus imaginista symposium, Decolonizing the Campus held at the University of Lagos, Osasona discussed colonial architecture in Ile-Ife, Nigeria. In this interview, she shares with Omenka its impact on indigenous building typology.
Deutschlandfunk
"DAS BAUHAUS WAR IMMER SEHR HETEROGEN"
Marion von Osten im Gespräch mit Änne Seidel
Nach der Machtübernahme der Nazis fanden viele Bauhaus-Künstler eine neue Heimat im Ausland. "Das Bauhaus war von Anfang an eine kosmopolitische Gestaltungsschule", sagte Kuratorin Marion von Osten im Dlf. Je nach den Gegebenheiten vor Ort habe sich die Bewegung weiterentwickelt.
Marion von Osten im Gespräch mit Änne Seidel
C& América Latina
BRAZIL TODAY – FEAR IS MOVING IN
Elisabeth Wellershaus
Even in those parts of Brazilian everyday-life, where things still seem to be in order, the repressive rhetoric of Jair Bolsonaro is taking hold. Report by Elisabeth Wellershaus from the São Paulo art scene.
Die Welt
IN WEITER FERNE SO NAH
Uwe Sauerwein
Das Projekt "Imaginista" erkundet die weltweiten Verflechtungen der Bauhäusler. Großes Finale ist eine Berliner Ausstellung.
Texte zur Kunst
BAUHAUS IM GLOBALEN SÜDEN
Tobi Maier über "bauhaus imaginista: Learning From" im SESC Pompéia, São Paulo
3Sat Kulturzeit
BAUHAUS IMAGINISTA
Eine Ausstellung erzählt die internationalen Geschichten des Bauhaus seit 1919 als globaler Resonanzraum und kosmopolitisches Projekt.
Frieze
ENDS & MEANS
Pablo Larios
On the centenary of the Bauhaus's founding in Weimar, a new exhibition project, which tours to 11 countries, revisits the school with an eye to global experiments in radical artistic pedagogy
Wallpaper
BAUHAUS-INSPIRED UNIVERSITY CAMPUS IN NIGERIA DESIGNED AS A SOCIAL STAGE
Harriet Thorpe
A documentary titled Scenes from the most beautiful campus in Africa – a film about the Ife Campus commissioned for the Bauhaus centenary celebrates the Obafemi Awolowo University in Nigeria. A symbol of Nigeria's Independence from Britain in 1960, the modernist university was a product of politics, design and climate, yet its main priority was always its function as a social stage for education and community.
Schattenblick
BERICHT/062
bauhaus imaginista – mehr als Ästhetik und Architektur
Schattenblick
INTERVIEW/042
bauhaus imaginista – gestaltungsfrei und produktiv ... Marion von Osten im Gespräch
Der Freitag
OFFEN FÜR MORGEN
Christine Käppeler
Das Projekt Bauhaus Imaginista ist Spuren der Bauhaus-Lehre rund um den Globus nachgegangen
taz
SCHNEIDERSITZ-SESSEL STATT STAHLROHRMÖBELN
Sophie Jung
Die Ausstellung "bauhaus imaginista" am Berliner Haus der Kulturen der Welt will eine andere Geschichte der Schule erzählen und blickt auf ihre internationale Wirkung
Artforum
BAUHAUS IMAGINISTA
Noam M. Elcott
All too often, global is used as an empty catchword. "bauhaus imaginista" at the Haus der Kulturen der Welt aims to buck this trend with its timely and historically accurate premise that the Bauhaus was an international phenomenon even before the Nazis scattered its affiliates around the world.
MOMUS
ONE HUNDRED YEARS OF AMBIVALENCE: THE MANY LEGACIES OF THE BAUHAUS
Kristian Vistrup Madsen
It's been a hundred years of bent chrome furniture, and Germany is taking stock. On the centennial of the Bauhaus art school, new permanent exhibitions are set to open in each of its three home cities: Weimar, Dessau, and Berlin. Running parallel to the re-launch of the three museums, Bauhaus Imaginista presents a comprehensive enquiry into the global reception and influence of the school.
The Avery Review
BAUHAUS IMAGINISTA AT THE HAUS DER KULTUREN DER WELT
Yuki Higashino
К – вестник за критика
Баухаус отвъд клишетата. За изложбата bauhaus imaginista в Берлин и София
Анета Василева
През лятото на 1957 Западен Берлин е домакин на международно архитектурно изложение. Изложението се нарича "Interbau" (Internationale Bauausstellung), а мястото е тотално разрушеният по време на бомбардировките квартал "Ханза".
BBC
STILL UNDEAD
Will Gompertz reviews the Bauhaus show in Nottingham
Happy birthday Nottingham Contemporary!
The Caruso St John-designed art gallery situated near the city's old lace-making district is celebrating its 10th anniversary: a first decade in which it has mounted in excess of 50 exhibitions and welcomed more than two million visitors. Impressive stuff. Especially when you consider its approach to putting on shows.
Art China
包豪斯诞生100周年——看包豪斯的"全球迁徙"
时针拨到一年前,2018年4月-7月,"迁徙的包豪斯-设计生活"在中国国际设计博物馆开幕。包豪斯合作组织(涵盖包豪斯校园存在过的柏林、德绍和魏玛三座城市)选择了中国杭州作为纪念包豪斯诞辰一百周年全球巡展的第一站。
Republik
EIN KURZES LEBEN FÜR DIE EWIGKEIT
Philip Ursprung
Das Bauhaus existierte nur 14 Jahre, aber es prägt unser Denken bis in die Gegenwart. Eine Ausstellung im Zentrum Paul Klee in Bern zeigt, wie facettenreich und lebendig das Erbe ist.